SAMSON CONTROLS INAUGURATES ITS HOUSING COMPLEX FOR EMPLOYEES
Samson Controls Pvt. Ltd. (SCPL) a 100% owned subsidiary of Samson AG, Frankfurt which has two manufacturing units in Ranjangaon, Pune and eight sales offices and three service centres all over India added another feather in its cap.
Dr. Nikolaus Hensel, Chairman of the Supervisory Board of Samson AG Germany; Dr. Erhard Scheidt, Vice–Chairman of the Supervisory Board of Samson AG Germany; Dr. Andreas Widl, CEO, Chairman of the Executive Board of Samson AG Germany visited India on 08thSeptember to inaugurate the Samson Housing Project in Talegaon Dhamdere, facilitating the employees a good housing facility and good access to Schools, Hospitals, Markets apart from easy commute to the Samson factory in Ranjangaon.
Ringo Valvulas India Pvt. Ltd.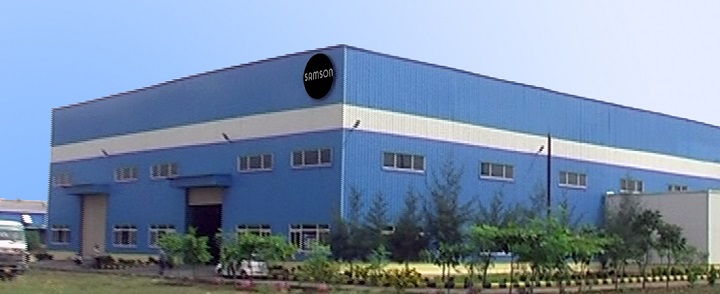 "Ringo Valvulas India Pvt. Ltd. a joint Venture company between Ringo Valvulas, Spain and Samson Controls, India is formed on 01st January 2016. The company will manufacture Gate, Globe, Check Valves (GGC) and has further plans to manufacture Ball and Gate Valves. All valves manufactures will sold through Samson Controls Pvt. Ltd. India for South Asia and Middle east region and Globally Samson Sales network will be used to market and sale these products."
IES-SAMSON AWARD WINNING

Mr. Atul Raje Managing Director of Samson Controls Pvt. Ltd was awarded Udyog Rattan Award by Institute of Economic Studies on 15th May 2015 for his excellent work in the indstry and Samson Controls Pvt. Ltd was award excellence award for its year on year consistent growth.
THE SAMSON CONTROL CRICKET LEAGUE
Samson Control Pvt. ltd arranged cricket tounament"Samson Controls Cricket league" - SCCL at Poona club, Teams from Thermax, Praj, Burckhardt Compression, Enpro, Black and Veatch, alongwith Samson Controls team particpated in the tournament. Praj Industries won the tournament.
PARTICIPATE IN CHEMTECH

Samson Controls participated in Chemtech Mumbai and Gujarat to showcase its product and to reach its customers. Valves from Leusch, Ringo, Vetec,Pfeiffer, Starline, Airtorqe, Cera system, Samsomatic, and SED flow control alongwith valves made in Samson India. Samson India will also participate in Cemtech Mumbai from 14-17 February 2016.
OCTOBER FEST

Samson Controls Pvt. Ltd sponsored Oktoberfest happening on Pune race course to propmote German culture. The fest happens for three days and the days are full of activities.
ORPHANAGE "MAHER"

SAMSON CONTROLS PVT LTD. belives in social responsibility and is proud to conduct various Socail Programmes.One such program was to Visit an Orphanage "MAHER" in Shirur,Dist.Pune and share some memorable moments with children.SAMSON CONTROLS family is happy to give these children PRODUCTS for daily use VIZ Water Purifier,Godrej Cupboard,DVD player,Jerkin,Sweaters,Blankets etc..
The new Factory started Production from 1st July 2009 and has completed a successful first year. The Factory covers an area of 18000 sq. m. The present Built-up space is 10304 sq. m. (Office 2004 sq. m. and Factory Shed 8300 sq. m.)